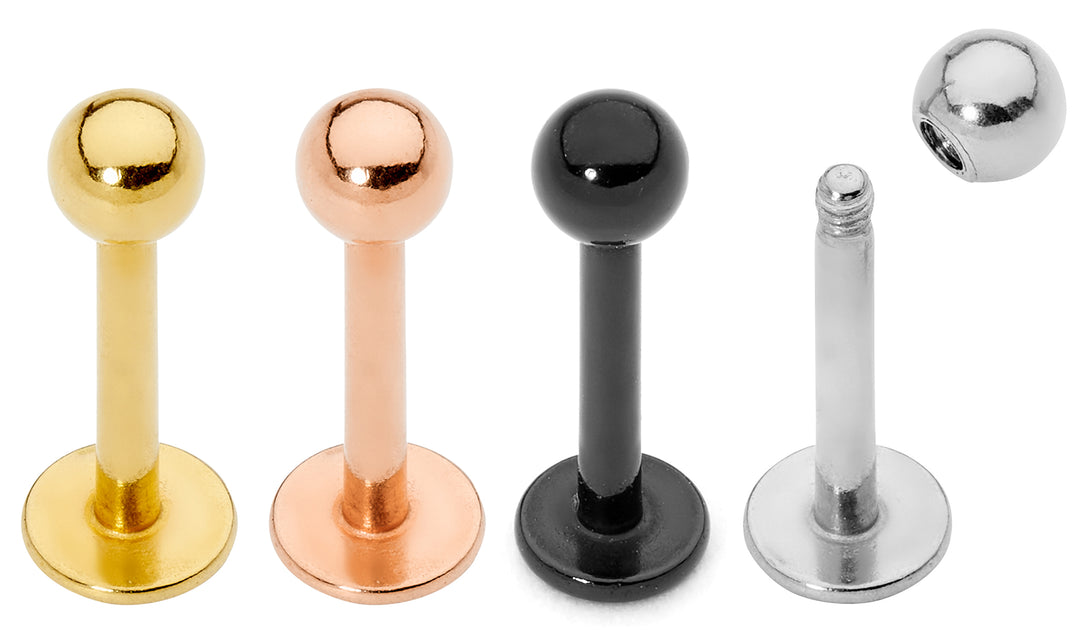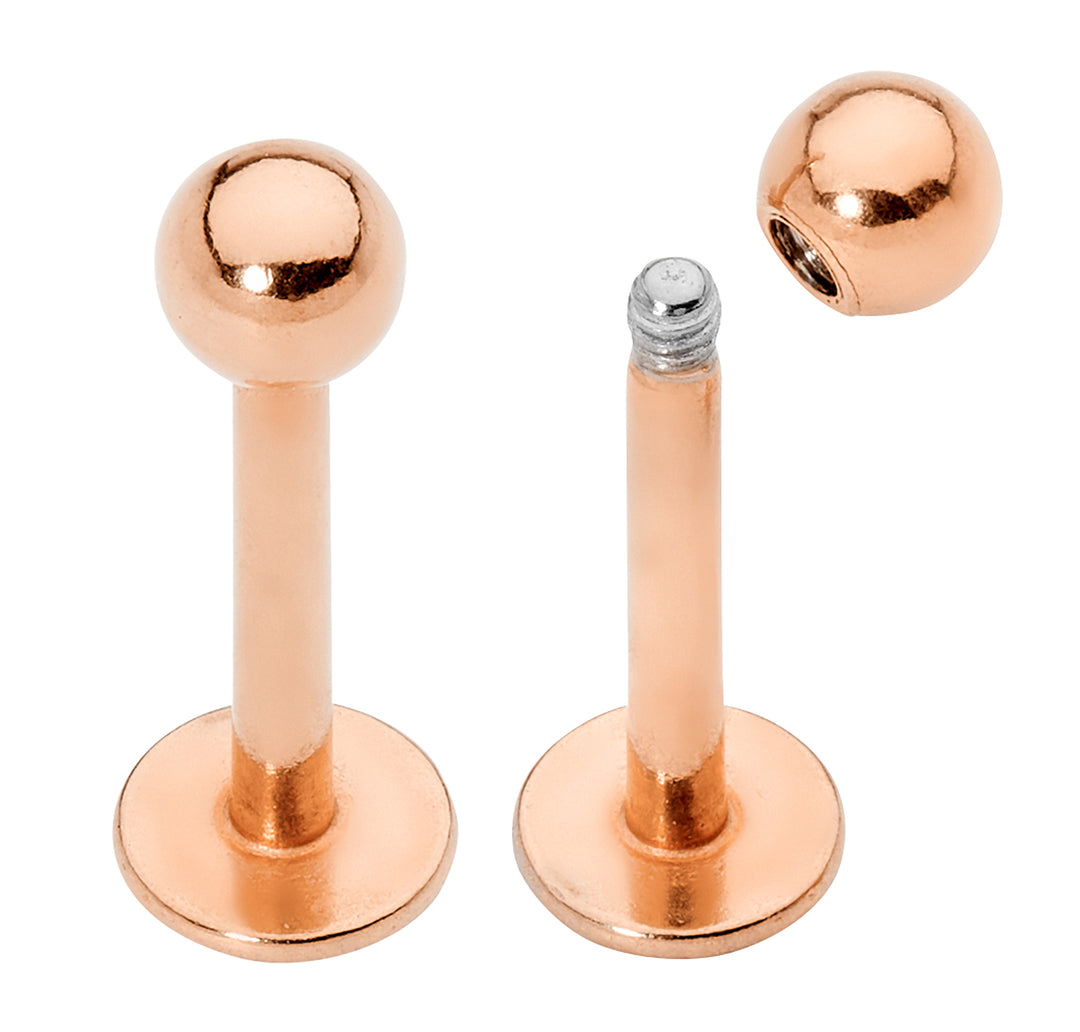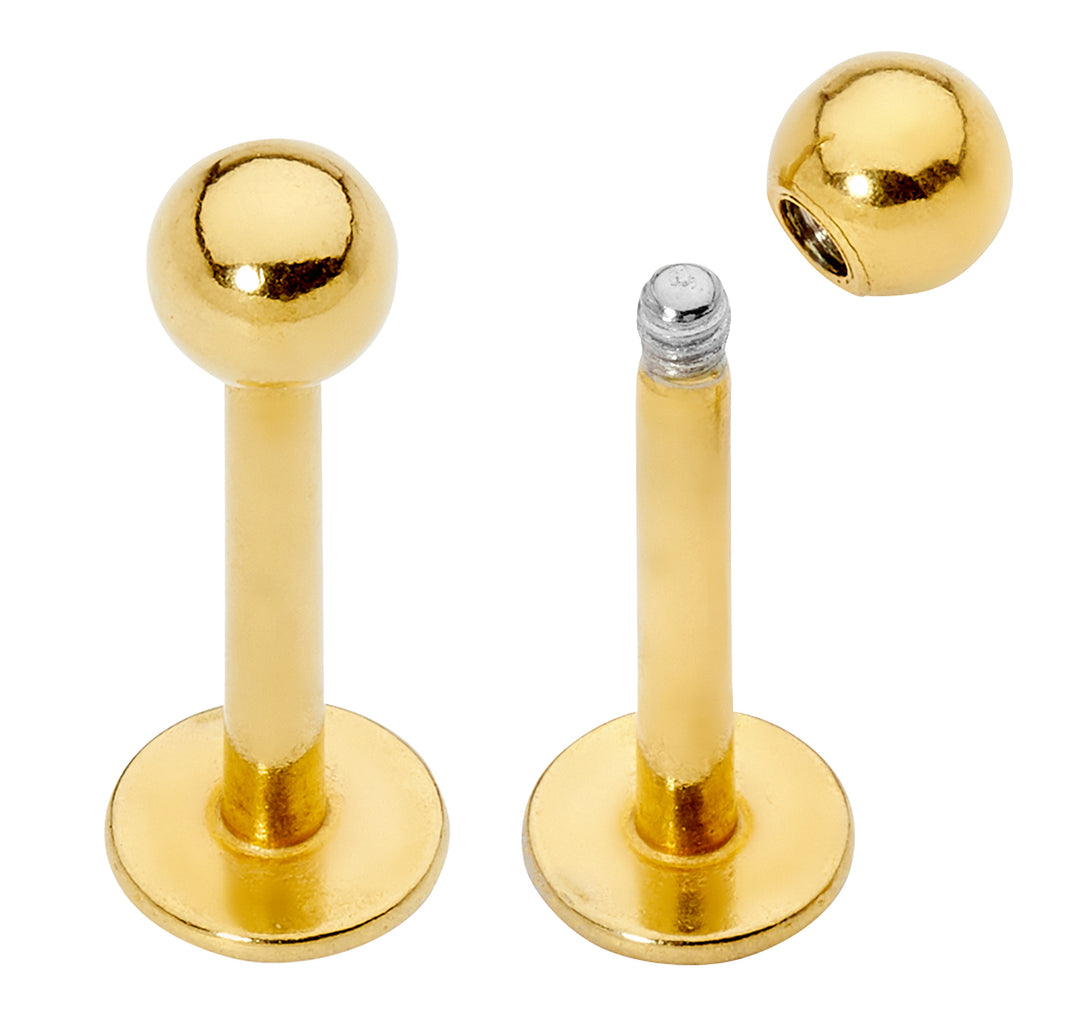 2 Pieces 18G – 14G Stainless Steel Labret Tragus Lip Nose Stud 6mm–12mm
---
Size chart
In stock, ready to ship

Inventory on the way
SOLD AS A PAIR - 2 PIECES!
Bar Thickness Options: 18G/1.0mm * 16G/1.2mm * 14G/1.6mm
Bar Length Options: 6mm, 8mm, 10mm, 12mm
Ball Sizes: 18G & 16G have 3mm balls * 14G has 4mm balls
Solid 316L Surgical Stainless Steel
Suitable for Ears & Body Piercings

Hypoallergenic - suitable for new piercings and sensitive skin
Stainless Steel will not tarnish or discolour
PVD (Physical Vapour Deposition) Plating is the process used to colour our 316L Surgical Steel rings. The stainless steel's original texture and structure is not changed during the PVD process.
HALO SLEEPERS Labrets have a smooth finish with no sharp edges. The have a secure base of 4mm wide so the bar can't come out of your piercing. You can sleep, swim, work or exercise with these in as they screw on and will not fall out. Your piercing should be fully healed before changing jewellery.
Halo Sleepers Jewellery Materials
Sterling Silver

316L Surgical Stainless Steel

G23 Titanium

 
STERLING SILVER
All our Sterling Silver Sleepers are handmade in Australia from Nickel Free, Solid Sterling Silver.
Pure Silver is generally too soft for producing jewellery items.  Therefore, Silver jewellery is usually alloyed with copper to give it strength.  Sterling Silver consists of 92.5 parts pure silver and the remaining 7.5 parts are made up of alloys.
Sterling Silver can, and in most cases, will tarnish. This is due to a reaction of the metal with sulphur containing oxygen particles in the air. Also taking certain medications can cause changes in skin acidity and may cause sterling silver jewellery to tarnish.
316L SURGICAL STAINLESS STEEL
All of our Stainless Steel Sleepers and Segment Rings are handmade using 316L Surgical Stainless Steel.
Stainless Steel also known as 316L and Implant Grade Steel, is a steel alloy that is the most common body piercing material.
They are perfect for sensitive skin as they are hypoallergenic and will not tarnish or discolour.
Stainless Steel can be polished to an extremely shiny surface and many people prefer this material to Titanium because of its high luster and shine.
Stainless Steel is biocompatible, hypoallergenic and will not irritate the skin.
G23 Titanium
All of our Titanium Sleepers and Segment Rings are handmade from G23 Titanium which is Nickel Free.
Titanium piercing jewellery will not irritate your skin and can reduce healing times in new piercings.  It feels very comfortable and is recommended for people who have experienced irritation with other metal jewellery.
Titanium is more of a grey metal colour compared to Stainless Steel but like Steel, Titanium Sleepers will not tarnish or discolour.
Titanium has many features that make it the perfect choice for piercing jewellery. Titanium is extremely lightweight (around 60% the weight of stainless steel) and has the highest biocompatibility of any metal.
Our Titanium body jewellery is manufactured from commercial pure Grade 23 Ti6AL4V ELI, also known as G23 Titanium. It is the only Grade recommended by the leading Association of Professional Piercers.
HALO SLEEPERS is Australia's largest Sleeper and Body Jewellery Online Wholesale Store. We are a family business based in Sydney, Australia and have over 40 years of experience in the jewellery industry and only sell the highest quality jewellery. Halo Sleeper earrings are undoubtedly a must-have addition to your inventory.